The world's largest mobile work of art – the Global Gate – has found its way to Hamburg. The construction, consisting of 37 shipping containers, has been on display in the port of Hamburg since mid-October.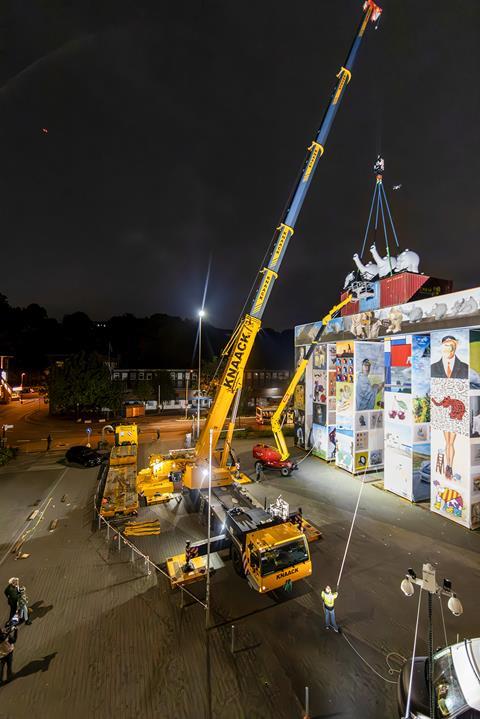 With Global Gate, art curator Marcus Schäfer has created a platform to exhibit works beyond the traditional boundaries of galleries and museums. After stops in Dubai and Frankfurt, the containers were erected in the Hanseatic city using a Liebherr LTM 1230-5.1 mobile crane. The installation accommodates numerous paintings by German comedian and artist Otto Waalkes.
Th containers are stacked in the shape of the Brandenburg Gate and the crane placed four "Ottifants", designed in a comic style by Otto Waalkes, on the 20 m-high installation.
Assembly took four days to complete. Proximity to the water, uneven ground, and strong winds – due to the exposed location directly at the Cruise Center Altona – meant construction of the Global Gate required precise logistics and technology. Equipped with 22 tonnes of ballast and a boom that was extended to 48 m, the crane erected the work of art.
The five-axle crane had itself only been in use for four weeks: "The LTM 1230-5.1 is the perfect addition to our fleet of Liebherr cranes. The mobile crane with its long boom can be used for construction crane assembly in particular," said Uwe Schulze, crane operator at Knaack Krane.