Crane contractor Wasel has deployed a Liebherr LTM 1650-8.1 to help place explosives at a height of 140 m during the demolition of a coal-fired power station in Lünen, Germany.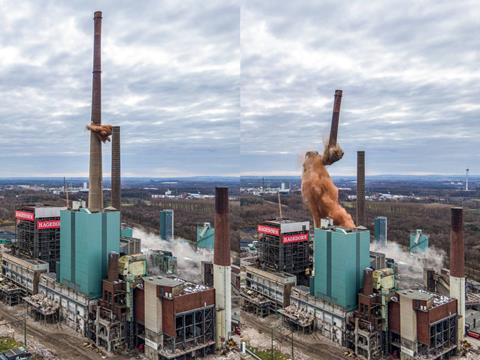 Fitted with a luffing lattice jib with a maximum length of 91 m, the LTM 1650-8.1 hoisted explosive experts, their drilling gear and explosives up to a work platform. Once there, they placed around 30 kg of explosives in 140 boreholes.
Liebherr said that the mobile crane was working on another site at the same time. Façade components on the boilerhouse also had to be removed at the same time using a radii up to 80 m.
According to Liebherr, the crane had a total of 145 tonnes of slewing platform ballast to enable it to support the demolition work façade of the neighbouring building from the same location. Using its 91 m luffing lattice jib, it was able to reach even the furthest points to help dismantle the façade. A large platform, which held a team of workers and the salvaged material, was hoisted in full over the neighbouring 70 m high building.
The platform was then used on the other side of the building at radii of up to 80 m. The safety cage, personnel and demolition material created a gross load case of around 8 tonnes.