Eisele Crane & Engineering Group and Riga Mainz teamed up to deploy three Liebherr eight-axle mobile cranes as part of a bridge refurbishment project in Darmstadt, Germany.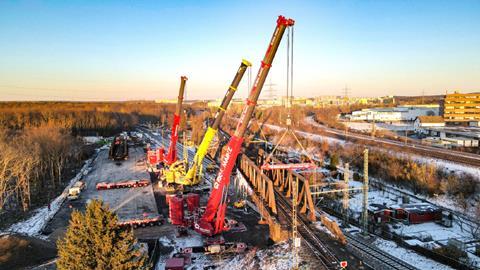 Construction contractor Adolf Lupp contracted Eisele to complete the crane work for the refurbishment works of two bridge structures. In turn, Eisele brought Riga Mainz on board.
Both bridge structures measured 40 m x 13.7 m x 5.3 m and weighed 160 tonnes. They had to be positioned on 1.5 m-high concrete elements on a nearby asphalt surface. As the mobile cranes could not access this area, the structures needed to be lifted and loaded on to SPMTs.
Three Liebherr cranes – an LTM 1450-8.1, LTM 1500-8.1, and an LTM 1650-8.1 – were deployed for the operation.
Liebherr said that the first bridge unit proved a challenge because it had to be hoisted over a 12.9 m overhead cable. Riga's LTM 1650-8.1 worked with Eisele's LTM 1500-8.1 for this lift. Both cranes were ballasted with 165 tonnes of counterweight. The LTM 1650-8.1, with its telescopic boom extended to 33.8 m, hoisted a weight of 88.2 tonnes at a radius of 19.1 m. The LTM 1500-8.1 took on the remaining 85 tonnes of the load using its 31.7 m telescopic boom at a radius of 16.4 m.
For the second steel bridge unit, Eisele's LTM 1500-8.1 worked with Riga Mainz' LTM 1450-8.1.
The six-axle heavy-duty SPMTs then transported the components to the intended position and unloaded the units with the help of the trailer's hydraulic systems.