Global Energy Group (GEG) said the fabrication and load-out of the final two liner assemblies has been completed, and they are now en route to EDF's Hinkley Point C nuclear power plant project.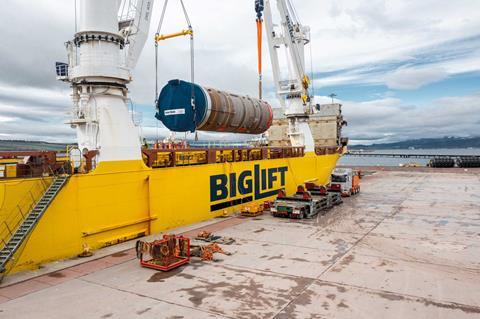 The equipment was manufacturer by GEG on behalf of infrastructure group Balfour Beatty. The liner assemblies are a crucial component of the nuclear power plant's cooling system, which will circulate water to the two nuclear reactors.
The initial phases of the project began in 2019 and involved early engagement with the client, Balfour Beatty and the designers to provide practical input to design concepts and development. Following this, GEG fabricated test rigs and trialled the manufacture of first-of-kind components for validation of the design. In total around 3,200 tonnes of steelwork was manufactured, including significant elements of the liner cap support unit assemblies, which were made from forged, welded, and machined super duplex material.
The equipment was built at GEG's Invergordon and the port of Nigg sites. The items were loaded at the latter onto a BigLift Shipping vessel.