Mammoet has been supporting the development of the Nam Theun 1 hydropower project, designed to bring additional renewable power to Laos and neighbouring Thailand.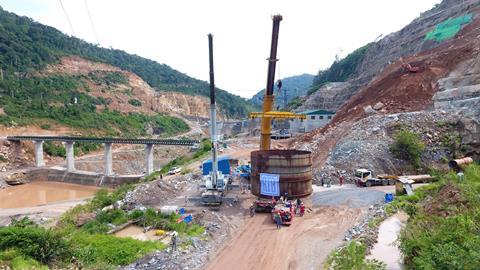 The construction of the hydropower plant required 50 pipe sections, each measuring up to 10 m in diameter and weighing up to 50 tonnes, to move from the onsite fabrication site 3 km to their installation site underground. Contractor ATB Riva Calzoni tasked Mammoet for the work, which involved navigating tight underground tunnels.
The components will channel water as it flows through the hydropower system. Any delays in navigating the route or damage to the pipe sections would have serious repercussions for the project schedule.
Mammoet recognised that whilst the weights involved were not particularly challenging, the restricted dimensions of the tunnels required a detailed plan and highly skilled SPMT operators.
The necessary permits were obtained for the 3 km journey across varying gradients and terrain. Preparatory work was then performed for the sizeable cargo to be ready for transportation using 16 axle lines of SPMTs.
Thanapon Varintree, sales manager at Mammoet, said: "When moving large components in such a confined space there is a high risk that either the item or the surrounding tunnel will be damaged, which in turn can lead to prolonged project delays whilst this is put right. At Nam Theun this was made even more difficult by heavy rain increasing the risk of the cargo slipping when moving up or downhill.
"Using SPMTs and experienced operators gave us the ability to be very precise in how we moved through the tunnels, making small adjustments in direction or speed where necessary to avoid damage."