Mammoet has transported a generator stator from Poland to Ontario Power Generation's Darlington nuclear facility in Canada for a refurbishment project.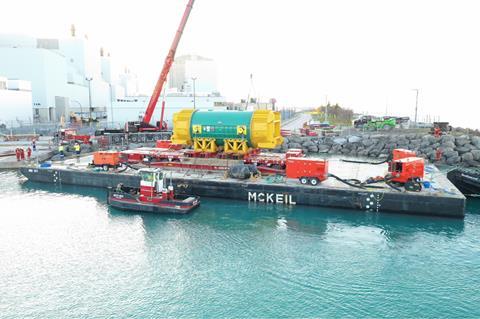 General Electric (GE) was commissioned to manufacture Darlington's new stator, and Mammoet was contracted to transport of the unit.
Mammoet's team has been active on the Darlington site for almost 40 years and has helped to move a wide range of modules, heat exchangers, transformers and generators. It was this in-depth knowledge of the site, Mammoet said, that helped it to tackle the challenging project.
The stator was transported from the factory in Poland via rail, before being shipped on BigLift's vessel Happy River across the Atlantic to Lake Ontario in Canada.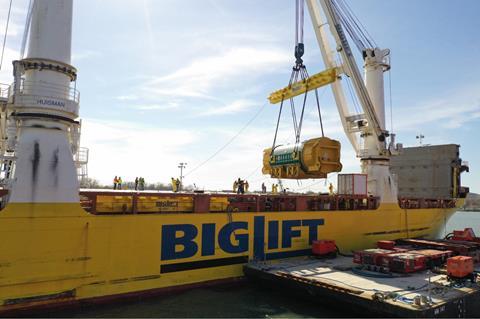 At the port of Oshawa, the stator was offloaded onto a waiting barge loaded with SPMTs. However, disembarking the cargo at Darlington posed a major challenge – the barge would have been unable to reach a position parallel with the quay due to a build-up of silt deposits.
During a routine site inspection the Mammoet team along with local barge operator McKeil came up with a solution that avoided dredging, which would have required extra time and administration. They proposed that the stator should be offloaded onto a shallow draft transport barge.
This barge could be floated in close enough to the quay that 15 m ramps could connect it with dry land at a 45-degree angle relative to the quay edge. These ro-ro ramps would allow the Mammoet team to drive the load off the front of the barge and land it over the corner of the quay instead of the side.
To secure the barge in this position, Mammoet's engineers mobilised two heavy prime movers and a 50-tonne counterweight to act as bollards. Once safely moored at the Darlington quayside, the plan was then to pump water into the barge slowly, intentionally grounding it.
This extra ballast would allow the barge to settle gently onto the waiting mud below its keel - providing additional stability to supplement this unconventional mooring approach. A dive survey was carried out by the team to confirm that the method was feasible.
The deck of the barge acted as a stable platform of similar height to that of the adjoining dockside roadway. The team could then place the ro-ro ramps between the barge and the dockside, allowing access for the SPMT to safely offload the unit and drive it along the route to its temporary home at the site's warehouses.