Sarens has installed 30 Lagerwey wind turbines at the NovaWind wind farm in Adygea, Russia.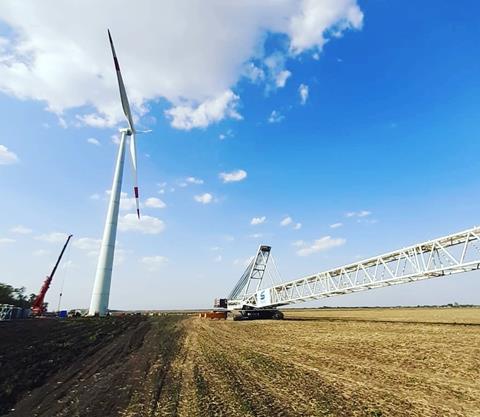 Red Wind contracted Sarens to coordinate the in-park logistics – including the transportation of the turbines from the storage warehouse to the installation site, and the installation the turbines themselves.
Sarens deployed two main cranes for this project – a Terex SL3800-1 delivered from the Sarens yard in Minsk, Belarus, plus a Terex Demag TC2800-1 that was mobilised from Sohachew, Poland.
The heaviest component handled was a 55-tonne generator, and the longest elements were 49 m turbine blades.
For the turbine installation portion of the project, Sarens pre-assembled modular tower sections then lifted the first section onto its foundation using 150-tonne lifting capacity cranes. To attach the rotor to the generator and nacelle, Sarens utilised two 160-tonne capacity auxiliary cranes as well as the main Terex crane.