Belgian heavy transport engineering specialist Sarens moved and installed a 1,600-tonne bridge in Zaventem, spanning one of the country's busiest motorways.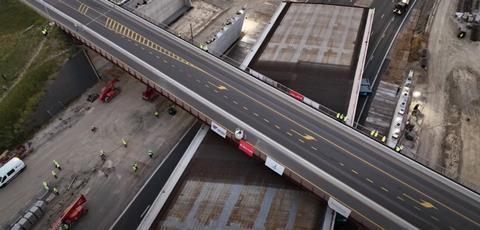 Sarens was contracted by Smulders and Besix to provide a complete technical solution and engineering services for the bridge installation. As part of renewal works coordinated by De Werkvennootschap, the bridge had to be installed across the ring road in Zaventem within a limited time window for traffic closure.
Sarens used an advanced 3D scanner to create a digital twin of the driving route. This helped with mapping out the most critical driving manoeuvres well in advance. The equipment used during the project included 75 axle-lines of K24ST SPMT trailers, along with CS350 / CS1000 jacking and climbing systems. 28 truckloads of equipment arrived from Wolvertem, and the K24ST trailers arrived directly from other Sarens jobsites in France, the Netherlands, and Belgium.
The bridge (105 m long and 27 m wide) was jacked-up by 2 m using six CS350 climbing towers. Then four CS1000 climbing towers were placed atop the K24ST trailers beneath the bridge section. Once the load was transferred on the SPMTs and climbing tower set-up, the bridge was ready to be transported to the installation site.
According to Sarens project engineer, Bart Hemeleers: "The bridge had to be driven underneath the bridge Sarens installed last year. The 3D-model analysis showed a tolerance of only 0.5 m… a risky and tight squeeze, but it allowed us to start jacking the bridge immediately after passing underneath."
This solution offered by Sarens proved to be a time-saver. The highway closure originally planned for 36 hours was reduced to only 15 hours. Sarens was onsite for about two weeks, including mobilisation and demobilisation.