Two heavy lift vessels are on their way to South Carolina Ports Authority's (SC Ports) Hugh K. Leatherman terminal in North Charleston, USA, to deliver five five ship-to-shore (STS) cranes.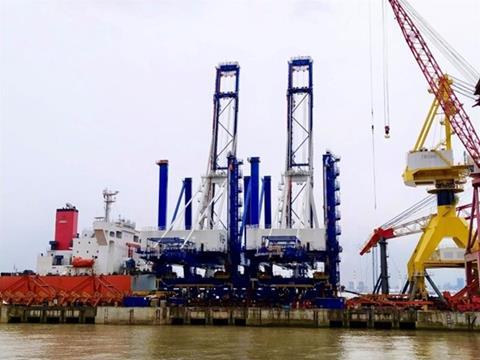 The cranes, fabricated by Shanghai-based ZPMC, are arriving at the port onboard the vessels Zhen Hua 36 and Zhen Hua 24. They have been disassembled for the journey and upon arrival will be erected and commissioned at the terminal.
Zhen Hua 36 is scheduled to arrive on October 26 and will deliver the first two cranes. Zhen Hua 24 will deliver the remaining three cranes, along with four hybrid rubber-tyred gantry cranes on November 3.
The cranes will have 169 ft (51.6 m) of lift height above the wharf deck and an outreach of 228 ft (69.5 m), enabling them to work on large container ships.
ZPMC USA will oversee the assembly and commissioning of the cranes over several months. They will be deployed on the newly-built 1,400 ft (426.7 m) wharf, where they will load and unload cargo once operations at the facility launch in March 2021.