Schares deployed Cometto SPMTs to move three steel columns at the metal construction company Winkel's site in Kleve, Germany.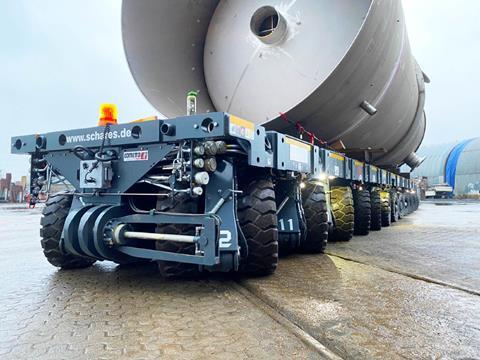 The heaviest column tipped the scales at 100 tonnes and measured 12 m long. The second column weighed 40 tonnes and measured 12 m long. The final unit weighed 80 tonnes and measured 26 m in length.
Schares was tasked with moving the items from the production hall to the outdoor storage area. For the two shorter columns, a six-axle MSPE bogie with a 202 kW power pack unit was used. For the longest column, the Schares team added another six-axle MSPE bogie to provide the appropriate load support points.
Cometto said that site conditions meant that narrow transport vehicles were required to execute the moves and the 2.43 m-wide SPMTs were the ideal solution.