The heavy lift vessel Zhen Hua 27 has arrived at South Carolina Ports' Wando Welch Terminal loaded with two ship-to-shore cranes manufactured by ZPMC.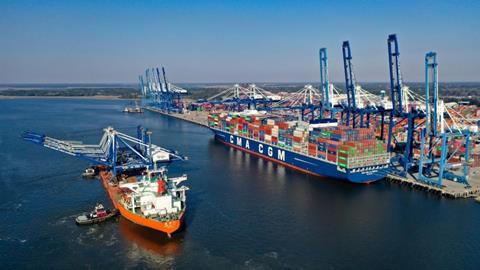 After a two-month journey from Shanghai, the vessel docked at the port's Columbus Street Terminal. The cranes will be assembled and commissioned ready to enter operation this summer.
The ship-to-shore units are part of South Carolina Ports' investment plan to modernise its operations and upgrade its infrastructure. With this latest delivery, Wando Welch Terminal now has 13 cranes with 155 ft (47.2 m) lift height in operation. By the end of 2021, the terminal will have 15 cranes of this size.