Tschudi Group has participated in several offshore wind energy projects spanning the Faroe Islands, Vietnam, and France.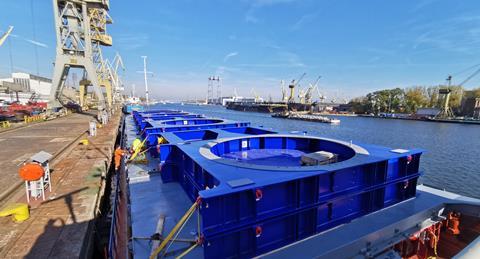 It recently established an office in Szczecin, Poland. In Q4 2021, Tschudi's Polish logistics team successfully organised the first shipment of eight steel nacelle frames from the port of Szczecin to the port of Montoir. Each frame had a width of 8 m.

Elsewhere, at its plant near Saint-Nazaire, GE is constructing and testing the Haliade X – one of the world's largest wind turbines. The new, and first, French offshore wind farm at Saint-Nazaire will be equipped with 80 Haliade X models.
On arrival in France, Tschudi transferred the elements by SPMT to the receiver's premises located close to the discharging terminal. Finally, the frames were placed on the concrete supports. A follow up shipment of 10 frames was completed in February 2022. The total project consists of 100 frames, the remainder of which will be shipped throughout 2022-2023.