Sarens Rentals recently deployed two high-capacity telescopic cranes for a lifting operation along the French national road N118 in Orsay, where a viaduct is being constructed for the future metro line 18.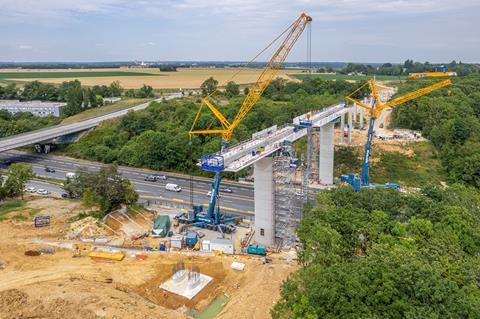 At the request of Groupement Vinci Construction and Razel-Bec, Sarens drew on its world-class fleet of equipment and unparalleled technical expertise to recommend the optimal cranes for the job: a 700-tonne capacity AC700 and 650-tonne NTM650.
The two telescopic cranes stayed on-site for 30 days in June, working by night to install 19 concrete beams before the road reopened to traffic each morning. Each concrete beam weighed between 54 and 66 tonnes and measured 3,5m long, 2,8m wide, and 3m high.
To lift each of the segments, the AC700 was configured with a 24,5m main jib and 36m variable boom, while the NTM650 had a 28,2m main jib and 31,5m variable boom. Additionally, 280 tonnes of counterweight were used. The challenge, however, was installing the high-capacity cranes with variable booms in a highly restricted environment.
Transporting the cranes to the project site also required special planning, and the national road was closed for two nights to allow for their delivery. Because a 3,8m-high bridge prevented access to the project site for the NTM650, the N118 had to be closed at night to allow the equipment to reach the work area from the opposite direction.
In total, 16 trucks transported the equipment to the project site, and two auxiliary cranes took part in setting up the variable flights. Sarens was pleased to provide the cranes for this special operation, and looks forward to seeing the new metro line passing through Orsay in just a few short years.

Sarens' mission is to be the reference point in crane rental services, heavy lifting, and engineered transport. With state of the art equipment and value engineering, the company offers creative and intelligent solutions to today's heavy lifting and engineered transport challenges. With more than 100 entities in 65 countries operating without borders, Sarens handles small-scale to mega-scale projects. It currently employs 4,452 professionals. Safety and excellence are key drivers for Sarens and the company strives daily to establish a safe space for everyone and everything related to its operations. Sarens has been the market leader for over 60 years; over four Sarens family generations are intimately involved in the business. Sarens continues to build the future on the foundations of its rich past and ensures that its clients will always stay ahead of the game when it comes to heavy lifting and engineered transport innovation.
View full Profile