Belgian transport engineering and heavy lift specialist Sarens has utilised eight CS5000 jacking units to move, weigh and jack a 21,000-tonne CPP topside module for the Kasawari gas development project in Johor, Malaysia.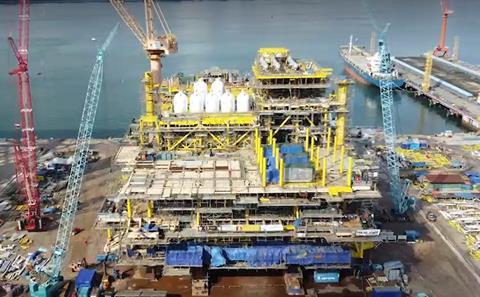 Working on behalf of Malaysia Marine and Heavy Engineering (MMHE), a wholly owned subsidiary of Malaysia Marine and Heavy Engineering Holdings Berhad (MHB), Sarens also deployed 96 axle lines of SPMTs and 64 load cells.
The C35000 jacks are used for lifting ultra-heavy modules and structures and have a jacking capacity of 5,000 tonnes per tower. The equipment was sent to the site via road and sea transport from Belgium, Egypt, Vietnam, Indonesia, and Malaysia in three months.