Sarens hoisted powerline towers on snow covered mountains for a 600 km power line in Ontario, Canada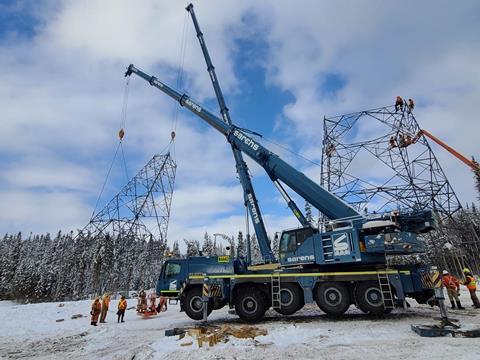 Sarens was commissioned by its client Valard Const to lay the foundation and hoist electricity towers for a 600 km power line in White River, Ontario, Canada.
The project began during the peak Covid-19 pandemic in July 2020 and will continue through to December of 2021. The power line towers had to be installed on the mountains. The terrains were difficult and selecting the equipment with sufficient boom length and capability of travelling on the hill slopes was crucial.
The team decided to deploy two 160-tonne and three 200-tonne all-terrain cranes. It took 16 hours to drive the crane to the first installation site, 1,200 km away from the yard.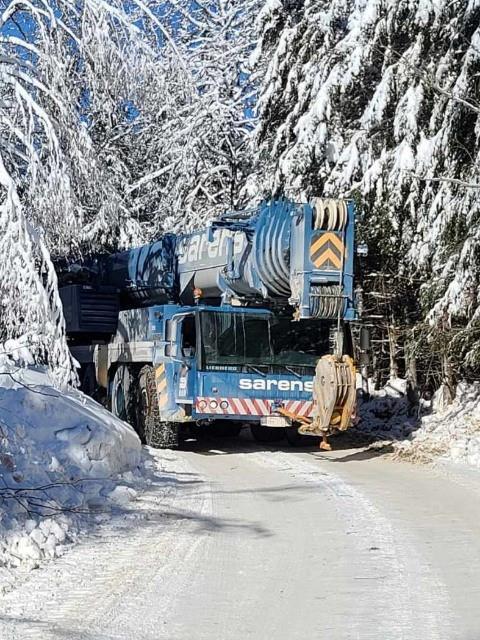 Each power line tower measured 61 m tall and weighed 2,000 pounds (907.2 kg). According to the project manager, Luke Goodfellow: "There were some very small set-up spots on certain mountains and accessibility was a challenge but our all-terrain cranes with long boom were able to install the towers on these remote sites safely." He added: "The weather was an additional challenge, the temperature dropped down to -40 degrees but our crew is working relentlessly to honour all project timelines."

Sarens' mission is to be the reference point in crane rental services, heavy lifting, and engineered transport. With state of the art equipment and value engineering, the company offers creative and intelligent solutions to today's heavy lifting and engineered transport challenges. With more than 100 entities in 65 countries operating without borders, Sarens handles small-scale to mega-scale projects. It currently employs 4,452 professionals. Safety and excellence are key drivers for Sarens and the company strives daily to establish a safe space for everyone and everything related to its operations. Sarens has been the market leader for over 60 years; over four Sarens family generations are intimately involved in the business. Sarens continues to build the future on the foundations of its rich past and ensures that its clients will always stay ahead of the game when it comes to heavy lifting and engineered transport innovation.