Sarens safely lifted, transported, and installed the symbolic barge in Antwerp, Belgium.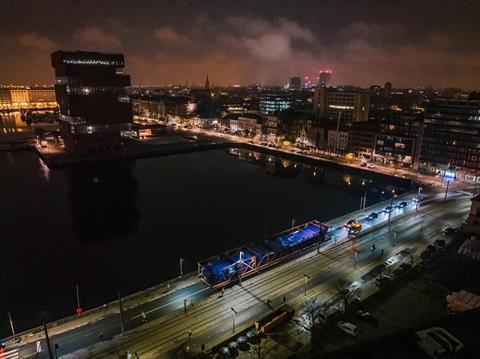 The Céphée barge, built in 1937 in France, was bought by the Friends of the National Maritime Museum in 1984 from the Antwerp Rhine and Inland Navigation Museum and donated to Antwerp city. Upon closure of the National Maritime Museum this one of a kind barge had to be moved to the Dry Docks, where it will feature at a maritime experience site.
Samoco, a part of Sarens, rose up to the challenge to move the barge from Jordaenskaai to Droogdokkensite. The team proposed a technical solution for the project. The project was conducted in two phases:
The first part included engineering, construction, and installation of a supporting steel frame around the barge and a wooden frame inside the barge.
The second part was engineering and jacking with SCJ50, transport with 12 axle-lines of K25 SPMT, jacking at the new location and moving the barge into a new building with wheelsets at the Droogdokken site, a few kilometers further.
For the first phase the steel and wooden frames were ordered, assembled, and installed around the barge by mid-February. The barge measured 40 m x 5.8 m x 4 m and weighed 90T including 40T steel structure around it.
The second phase began with the jacking of the barge to install the SPMTs underneath. Before transporting the barge, our team had to make sure the below preparations were in place:
Dismantling of concrete wall
Removal of protected fencing
Street furniture management
Removal of fronton of warehouse
Installation of steel plates
Application for transport license
Closing of the road
Disconnecting tramlines
With everything meticulously planned the barge was moved to its final destination by the SPMTs during the night. The barge was then positioned in front of the building and lowered on the jacking system. The SPMTs were removed and the barge was lowered on to our wheelsets. Next the barge was pushed inside the building and lowered on to the concrete ground floor.

Sarens' mission is to be the reference point in crane rental services, heavy lifting, and engineered transport. With state of the art equipment and value engineering, the company offers creative and intelligent solutions to today's heavy lifting and engineered transport challenges. With more than 100 entities in 65 countries operating without borders, Sarens handles small-scale to mega-scale projects. It currently employs 4,452 professionals. Safety and excellence are key drivers for Sarens and the company strives daily to establish a safe space for everyone and everything related to its operations. Sarens has been the market leader for over 60 years; over four Sarens family generations are intimately involved in the business. Sarens continues to build the future on the foundations of its rich past and ensures that its clients will always stay ahead of the game when it comes to heavy lifting and engineered transport innovation.
View full Profile