Sarens Kazakhstan has executed the full project scope in Atyrau, Kazakhstan for a gas-chemical complex in Atyrau
When COSCO awarded Sarens Kazakhstan the full project scope, Sarens brought its top equipment, expertise, and logistical knowledge to the operation—even removing traffic lights and building new roads to transport four massive propane tanks through a busy city.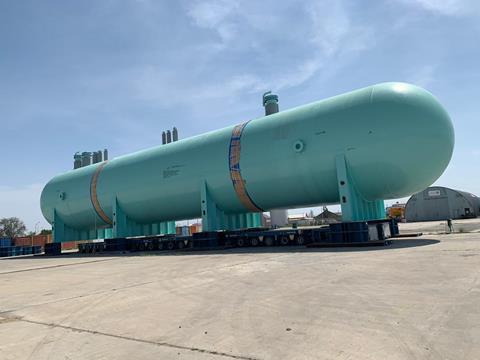 Between April 20th and July 28th, 2020, Sarens was responsible for offloading, transporting, and constructing the gas-chemical complex outside Atyrau. Sarens Kazakhstan executed the full scope of the project, from offloading the barge to storing equipment at the port to transporting and installing it on site.
The complex operation required a year of advance planning, during which Sarens evaluated and secured the best transportation route for four 50 m-long, 10 m-wide, and 12 m-high propane tanks that needed to pass through the city centre en route to the Kazakhstan Petrochemical Industry (KPI) Plant.
Selecting the right equipment
Sarens chose equipment that could accommodate almost 600 tonnes at a 20-metre radius, as well as SPMTs that could maneouvre through crowded environments. The equipment included: a CC6800 in SSL configuration, with mats to reduce ground-bearing pressure; AC500; 44-Axle Kamag SPMT; Tadano RT 80; Multi-axle conventional trailer and low-bed trailers; Stools and transport beams.
All cranes, SPMTs, stools, and transport beams were mobilised from their central base in Atyrau to port, and it took around 20 days to set up all equipment.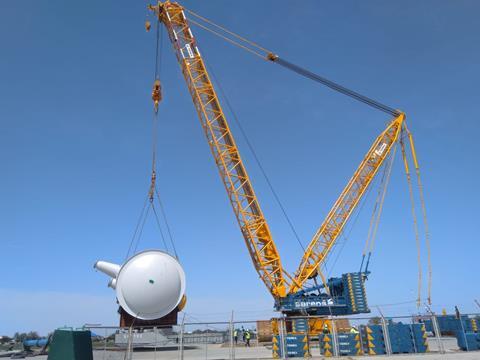 Moving massive components through the city centre and beyond
For the transport operation, Sarens had to remove nearly 120 city light poles, more than 200 overhead power line cables, 24 traffic lights, 48 pedestrian light poles, four traffic camera racks, 20 communication cables, two major hot water supply pipes, and a railway gate. Sarens also made three entirely new bypass roads in order to avoid bridges and widen the road by 1.5m throughout a 3km stretch.
To make it possible, Sarens secured special permission from the city mayor as well as electrical, civil, telecommunications, and other official departments. Around 200 people were involved in the process, including the Sarens team and local government officials.
Crews worked tirelessly to transport 25 pieces of equipment in five convoy sequences over the course of five weeks. To minimise disturbance to city residents, Sarens chose to transport one convoy every Sunday, starting as early as 4:00 in the morning. Each convoy took almost three days to reach the KPI plant, after which the trailer was unloaded and brought back again to the port for the next trip.
A major challenge was transporting all equipment and performing road preparation and improvement work during the ongoing Covid pandemic. Every team member had daily temperature checks and Sarens implemented safety measures to reduce contact. Although the client had planned to come to Kazakhstan during the operation, the pandemic necessitated work by phone and Skype.
Lifting and installing components
In all, Sarens offloaded four propane tanks, three columns, two heat exchangers, eight reactors, and eight reactor accessories at the Atyrau port, which is 10km from the city centre. The CC6800 lifted all this equipment at a 20m radius, slewing and loading it onto the SPMT. For offloading at the port, a total of 15 people were involved.
Once Sarens transported the four propane tanks on site, it needed to install them with the SPMT itself, installing an additional saddle and moving the SPMT in a 90-degree position. This was achieved with rigorous planning, as Sarens had minimal space to park the tanks and install them one by one.
A proud accomplishment for Sarens Kazakhstan
Operations like this highlight the need for the right equipment, industry expertise, and a willingness to work tirelessly with city planners and officials to make challenging projects a reality. Sarens was proud to serve our client, COSCO, in achieving this goal and would like to thank everyone who made this project a success!

Sarens' mission is to be the reference point in crane rental services, heavy lifting, and engineered transport. With state of the art equipment and value engineering, the company offers creative and intelligent solutions to today's heavy lifting and engineered transport challenges. With more than 100 entities in 65 countries operating without borders, Sarens handles small-scale to mega-scale projects. It currently employs 4,452 professionals. Safety and excellence are key drivers for Sarens and the company strives daily to establish a safe space for everyone and everything related to its operations. Sarens has been the market leader for over 60 years; over four Sarens family generations are intimately involved in the business. Sarens continues to build the future on the foundations of its rich past and ensures that its clients will always stay ahead of the game when it comes to heavy lifting and engineered transport innovation.