Sarens was asked to plan, coordinate, and execute the skidding and load-out of a jacket for our trusted client Sonamet.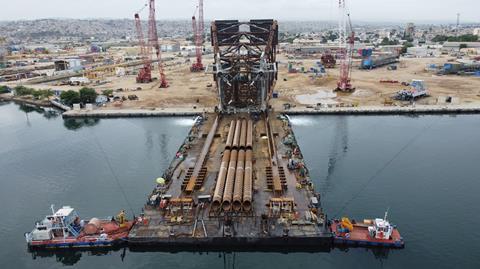 Around last Christmas, the Sarens team coordinated with the client and engineered a solution to skid and load-out the jacket onto a barge. The crew decided to deploy four 200-tonne strand jacks for the load-out and twenty ballast pumps to maintain the barge level during the load-out. Maintaining the barge level at all times is a seminal challenge we face with success in this type of operations across the world. For Sarens, this job was no exception.
The equipment was mobilised in four weeks from Sarens headquarters in Belgium and set up in three weeks. This showcases the swift and agile capabilities we put in action, setting in motion an international mobilisation plan to help our clients get the job done with no delay.
The jacket measured 37 m in height and weighed 2,200 tonnes. Considering the tidal situation and the load dimensions, the skid track was laid on the quayside and the barge. Meanwhile, the ballast pumps ensured that the barge remained stable during skidding.
Our crew of seven worked under warm weather and gusty winds to precisely move the jacket onto the barge to be transported to its final destination.
The conditions for coordination were challenging considering the location of the project and the work culture with which Sarens is abundantly familiar as the company now nears over 40 years of presence and consistent work on the African continent.
Last, this project is further proof of how Sarens can support our clients anywhere in the world, wherever our expertise is needed!

Sarens' mission is to be the reference point in crane rental services, heavy lifting, and engineered transport. With state of the art equipment and value engineering, the company offers creative and intelligent solutions to today's heavy lifting and engineered transport challenges. With more than 100 entities in 65 countries operating without borders, Sarens handles small-scale to mega-scale projects. It currently employs 4,452 professionals. Safety and excellence are key drivers for Sarens and the company strives daily to establish a safe space for everyone and everything related to its operations. Sarens has been the market leader for over 60 years; over four Sarens family generations are intimately involved in the business. Sarens continues to build the future on the foundations of its rich past and ensures that its clients will always stay ahead of the game when it comes to heavy lifting and engineered transport innovation.