Transport engineering specialist Sarens – on behalf of French steel construction company Eiffage Métal – has installed a 1,500-tonne bridge that will connect two parts of the athletes' village across the river Seine for the Paris 2024 Olympic Games.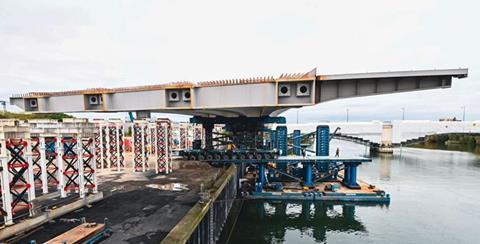 Sarens was tasked with the load out, river transportation, and installation of the bridge.
Eiffage Métal pre-assembled the bridge at its quay in Gennevilliers. Sarens' SPMTs then moved it onto twin barges, which were outfitted with steel support structures, ballasting pumps, winches, and CS1000 jacking equipment. These barges are able to uncouple in order to pass through the locks leading to Paris, and then recouple again at a wider width to provide stability for large transport operations.
Sarens said that because of the quay's height above the water line, a relatively high support structure had to be assembled on the barge before the SPMTs could drive the bridge aboard.
The height, combined with the shape and weight of the bridge, meant that the barge's stability during the roll-on operation was quite limited and required a very accurate ballasting operation, said the company.
Once loaded, the crew removed the SPMTs and jacked the bridge down.
As the bridge protruded from both the aft and front of the barge, the push boat had to be connected to the bridge itself, and not to the barge. For this, Eiffage Métal provided an interface structure between the bridge and push boat, in addition to large bracings to transfer the transport forces from bridge to barge.
Once at its destination, the bridge was jacked up to its installation height. It was then installed over a 14-hour river closure, during which Sarens' crew manoeuvred the barge and bridge using hydraulic winches, and jacked the bridge onto temporary supports.