Schmidbauer has transported two reactors, weighing 660 tons (598.7 tonnes) and 600 tons (544 tonnes), from Kelheim to Neustadt an der Donau in Germany on behalf of Bayernoil.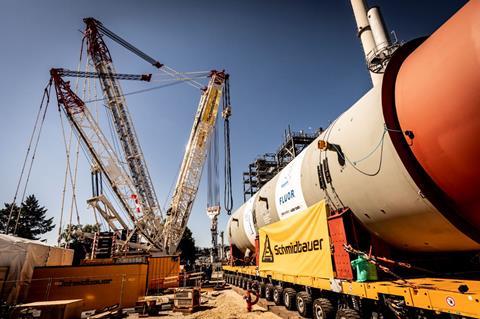 The reactors were destined for an oil refinery where they will be used to produce sulphur-free diesel fuel.
Schmidbauer first had to use a Tadano CC 8800-1 crawler crane to handle the components at the port of Kelheim. The reactors, which measured 37 m x 8.2 m x 6.6 m, were then moved on SPMTs.
"Such huge dimensions can quickly become a problem, because neither the roads in Germany nor the rest of the infrastructure are designed for these dimensions," said Stefan Schmidbauer, managing director of the Schmidbauer Group and project manager for the transport. "Especially bridge crossings, but also railway crossings are special problems that we have to pay special attention to."
The route, although only 30 km long, had to pass through very narrow villages and over several bridges, and there were also considerable inclines to overcome.
Each stage had its own challenges in store. The start in Kelheim was accompanied by thunderstorm-like downpours but fortunately this only led to minor time delays. The Weltenburger Berg on the second stage had a steep incline of up to 8 degrees. Then, on the third leg to Bad Gögging, an additional structure with 22 hydraulic presses had to be used when crossing a bridge to ensure safe passage.
On the final stretch to Neustadt an der Donau, Schmidbauer had to manoeuvre the loads along a railroad crossing, with only a four-hour window to cover the crossing with gravel and roadway plates, drive over it and to release it again for Deutsche Bahn.
The company explained: "The entire project required extensive feasibility studies in advance, geotechnical reports, and engineering services for stability, as well as structural analysis for the necessary structure overpasses and road analyses including soil compression. Countless traffic signs, street lighting, telephone lines, curves, inclines, construction sites, bridges, side slopes, intersections and traffic circles had to be considered. In addition, various temporary roads were built to avoid critical route points such as railroad crossings and bridge crossings."
At the destination, the CC 8800-1 was deployed again to lift the reactors. A CC 2800-1 was used as a tracking crane.