Denmark's Ørsted secured a contract for difference for the Hornsea 3 offshore wind farm in the UK.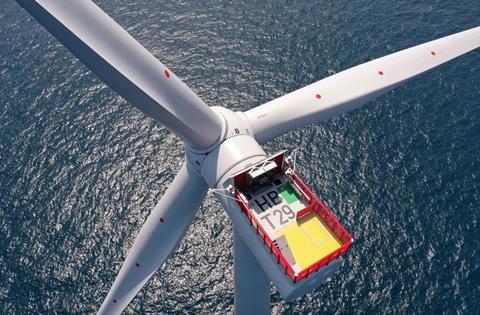 The project, which will have an installed capacity of just over 2.8 GW, was awarded at an inflation-indexed strike price of GBP37.35 (USD44.68) per MWh in 2012 prices.
Hornsea 3 will contribute significantly to Ørsted's ambition of installing 30 GW offshore wind capacity by 2030. It currently has 7.5 GW offshore wind in operation, approximately 3.5 GW under construction, and another 11 GW of awarded capacity under development (including Hornsea 3).
Martin Neubert, deputy group ceo and chief commercial officer at Ørsted, said: "We remain fully committed to financial discipline. The strike price is inflation-indexed and the contract comes with a level of merchant flexibility. We have already secured capacity with key suppliers for around two thirds of Hornsea 3's capital expenditure. Also, we can unlock significant synergies by taking a global portfolio view in procurement and by utilising Hornsea 3's size and location adjacent to our existing UK east coast wind farms with close to 4 GW in operation."
Ørsted will build Hornsea 3 including the transmission assets (offshore and onshore substations and export cables). When the wind farm has been fully commissioned, Ørsted will, in accordance with UK regulation, divest the transmission assets to a new owner. Ørsted expects to take final investment decision on Hornsea 3 within 18 months, but a decision could come before the end of this year.
The Hornsea Zone also includes Ørsted's Hornsea 4 project, which could have a capacity of approximately 2.6 GW. Hornsea 4 is currently going through the planning process with a decision expected in early 2023.