Associated British Ports (ABP) has launched a wide-ranging sustainability strategy, including plans to invest around GBP2 billion (USD2.4 billion) in decarbonising its own operations by 2040 at the latest and in major infrastructure projects to enable the wider UK energy transition.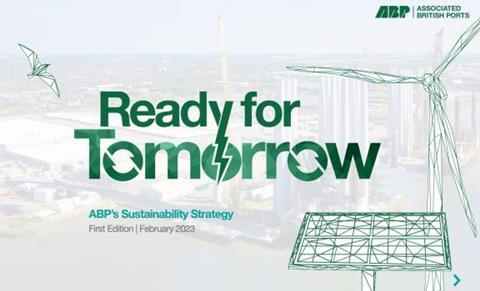 For ABP's own operations, the strategy – named Ready for Tomorrow ­– identifies five areas for action: net zero, air quality, biodiversity, waste and water management. Each focus area has a programme of action plans to achieve ambitious but credible targets. This includes a commitment to reach net zero from ABP's own operations scopes one and two by 2040.
Ready for Tomorrow, according to ABP, recognises that ports have a vital and enabling role for a range of major decarbonisation and sustainability projects. For ABP, this includes continuing to develop its leading offshore wind manufacturing and support hubs in the Humber and East Anglia, as well as more than doubling its own green power generation.
ABP's future major projects portfolio, along with industrial partners, includes developments in South Wales, the Solent, Humber and East Anglia. These cover floating offshore wind (including a major integration port hub centred on Port Talbot), hydrogen, carbon capture and storage, industrial decarbonisation and alternative fuels.
Henrik L. Pedersen, ABP's ceo, said: "Climate change is an era-defining challenge, but it is also an opportunity to scale innovative new industries to leave an optimistic legacy for generations to come.
"ABP is ready for tomorrow. We are committed to working together with industry partners and authorities to turn this generational crisis into a generational opportunity: to create a decarbonised, dramatically more sustainable future and deliver the significant investment, economic growth and thousands of new, good jobs that should come with it."