Antonov Airlines plans to enter its AN-225 Mriya aircraft into commercial operation in the coming weeks, once maintenance works are complete.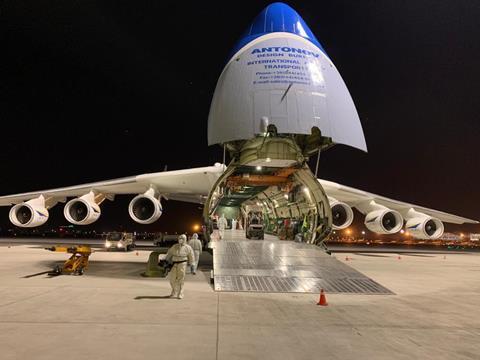 With Volga-Dnepr grounding its fleet of AN-124s, as HLPFI reported here, there is currently a surge in demand for large aircraft capable of moving oversized cargo or high volume shipments. Antonov Airlines confirmed that it is doing its best to help customers "in the current difficult situation and support them worldwide providing the required airlift capability".
"Taking into consideration the current very limited availability of AN-124 aircraft on the market we give priority to the cargo that is required to deliver on time, especially critical [shipments] – satellites, project cargo (for energy and other industries), aircraft parts, helicopters," said Antonov Airlines.
Additional capacity will come from the larger AN-225, and will complement Antonov's fleet of seven AN-124 aircraft.
Volga-Dnepr decided to ground its fleet in late November after it was forced to make an emergency landing in Tolmachevo airport in Novosibirsk, Russia, on November 13.
The airline said the captain took the decision to return to the airport of departure due to technical issues; upon landing the aircraft rolled off the end of the runway. The incident in Novosibirsk was caused by an uncontained engine fan disk failure (series D-18T), which resulted in engine failure and the loss of control systems.
Following the incident, the Federal Agency for Air Transport has set up a commission, including Volga-Dnepr specialists, which is identifying the causes.
Regarding the airworthiness of its fleet of AN-124s, Antonov Airlines said it "puts flight safety first and therefore maintains high standards of flight safety and ensures the proper maintenance and airworthiness of its fleet in cooperation and with the maximum level of technical support from holders of AN-124-100 and D-18T engine Type Certificates. It concerns both AN-124-100 aircraft frames and their engines.
"As a responsible airline Antonov Airlines strictly adheres to the company's safety policy, national and international regulations. Therefore, Antonov Airlines plans further safe operation of its fleet of AN-124-100 aircraft and continues business as usual."