AqualisBraemar will oversee the construction of two newbuild self-elevating wind turbine installation vessels that will be delivered to OuYang Offshore.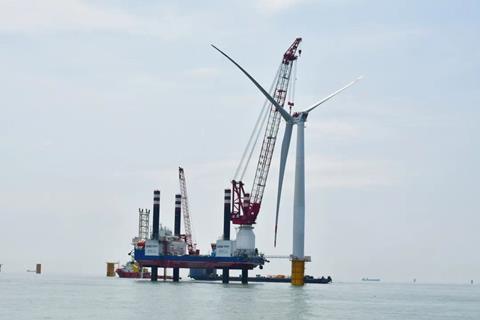 The vessels – OuYang 003 and OuYang 004 – are being manufactured at Dayang Offshore Equipment's Chinese shipyard. AqualisBraemar's onsite team will monitor and supervise the construction to ensure that all work is carried out in accordance with the contract specifications, plus flag and class requirements.
Both units will measure 75.6 m in length and will have four hydraulic pin legs. Equipped with one 600-tonne capacity leg-fitted crane with a lifting height of 140 m, the self-propelled vessels will be capable of lifting and installing 10 MW turbines in China.
The project will be managed from AqualisBraemar's office in Shanghai, China, which previously held the same role during the construction of the OuYang 001 and OuYang 002 wind turbine installation vessels.
As the world starts to recover from the Covid-19 crisis, offshore wind energy looks set to be one of the most resilient sectors and is poised for further strong growth. As a result, a number of companies have switched their attention to wind turbine installation.
Scorpio Bulkers, for example, signed a letter of intent with Daewoo Shipbuilding and Marine Engineering for the construction of a wind turbine installation vessel, signalling its entry into the market. Scheduled for delivery in 2023, the vessel will be an NG-16000X GustoMSC design, as HLPFI reported here.
HLPFI readers will also recall that Offshore Heavy Transport (OHT), through its subsidiary VIND Offshore Installation, signed an agreement with China Merchants Heavy Industry (CMHI) in Jiangsu, China, for the construction of two wind turbine installation vessels, with the option for a further two units.
Also slated for delivery in 2023, the vessels will be able to handle the next generation of turbines using its 2,500-tonne capacity telescopic crane.
Meanwhile, CSBC-DEME Wind Engineering (CDWE) reached a final investment decision for the construction of the heavy lift and installation vessel Green Jade – the first vessel of its kind to be built in Taiwan for the local renewable energy market.