Offshore Heavy Transport (OHT), through its subsidiary VIND Offshore Installation, has signed an agreement with China Merchants Heavy Industry (CMHI) in Jiangsu, China, for the construction of two wind turbine installation vessels, with the option for a further two units.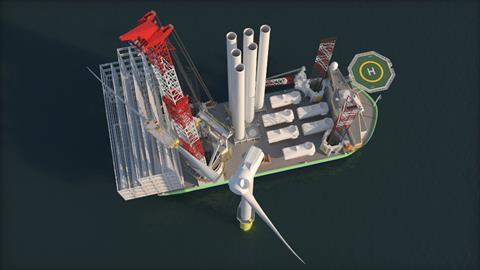 The GustoMSC-design vessels will be able to handle the next generation of turbines using its 2,500-tonne capacity telescopic crane that has a maximum lifting height of approximately 165 m. The units will be capable of installing turbines in water depths up to 65 m.
The first vessel will be delivered in early 2023.
"Through this initiative, OHT firmly establishes its position as a leading, fully integrated transport and installation (T&I) company for offshore wind. In doing so, we are responding to client concerns about the lack of capable vessel capacity in the booming offshore wind market," said Torgeir E. Ramstad, ceo for OHT.
The company has already been involved with several offshore wind energy projects. Notably, its fleet of heavy lift vessels was used to transport 48 jacket foundations from the UAE to Scotland for the Moray East project, as HLPFI reported here.
Next year, OHT's installation capabilities will be boosted with the arrival of the foundation installation vessel Alfa Lift, which includes a 3,000-tonne capacity crane from Liebherr and will be able to perform heavy lift operations while the main deck is submerged.