Global EPC Bechtel has reviewed Shannon Foynes Port Company's (SFPC) Vision 2041 masterplan to accommodate offshore and onshore investment within and adjacent to its harbour in Ireland.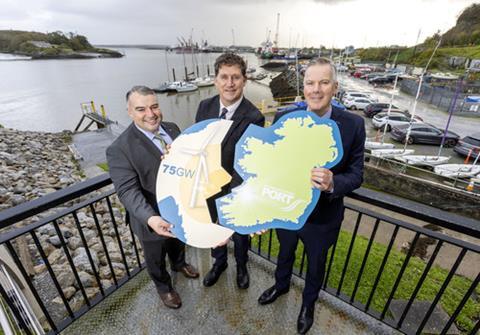 Bechtel said during May 2022 that it would support SFPC in considering how to deliver significant growth and expansion of the port, including how it can support the burgeoning offshore wind industry, as well as the production of alternative shipping fuels that could transform Shannon Foynes into a leading European port.
The report is structured around three main drivers for future growth and expansion: delivering floating offshore wind at scale; green industrial development and transition (facilitating alternative fuels production); and expanded, diversified and more sustainable logistics services.
The review of the masterplan found that the SFPC would not only facilitate the deployment of floating offshore wind but help decongest the Irish supply chain through the provision of road and rail linked container services.
The report – launched by Ireland's minister for the environment, climate and communications Eamon Ryan – estimates that Ireland's west coast winds can support 30 GW of floating offshore wind by 2050, six times more than the existing domestic demand.
This energy would also kick-start a new industrial ecosystem based on the production of carbon-free green electricity, hydrogen and derivatives, which will be transformational for Ireland by way of use for domestic electricity and e-fuels, electricity exports, and e-fuels exports.
At peak, up to 120 floating turbines would be installed offshore per year.
The report identifies numerous advantages of the Shannon Estuary, including its jurisdiction over all marine activities across a 500 sq km area, its 1,400 ha of zoned strategic development locations and its proximity to the Atlantic's abundant offshore wind resources.
The report recommends the establishment of four core facilities on the Shannon Estuary to support the delivery of floating offshore wind at scale: turbine integration and pre-commissioning at Foynes Deepwater Port; substructure assembly at Moneypoint; wet storage at various locations within the Estuary; and an operations and maintenance base at the port of Foynes.
"This future proofing plan comes at a time when energy security is more important than ever. There is an increasingly strong case for investing in port infrastructure to support the growth in offshore wind, and the importance of creating local supply chains cannot be underestimated," said Michelle De Franca, Bechtel's managing director for the UK and Ireland.
"Ports act as focal points during the manufacturing, installation, and operation of offshore wind farms, and Shannon Foynes is strategically ideal to support Ireland's offshore wind industry, as well as expand to play an even greater role in European shipping. Our work also illustrates that the development of a green hydrogen-based ecosystem in the Shannon Estuary is possible. The production of green hydrogen here will be a much-needed boost to European energy security and will be transformational for Ireland."