C.H. Robinson has launched Emissions IQ – a free tool for customers to measure the green credentials of their transport operations.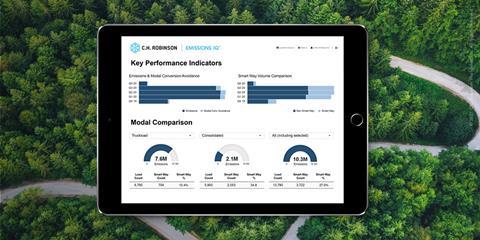 The tool is the latest innovation from C.H. Robinson's tech incubator Robinson Labs. It automatically calculates emissions and provides an easy visualisation of a shipper's carbon output.
Currently, C.H. Robinson can utilise the tool to provide emissions analysis across all modes. Later this year, a 'self-serve' tool will be updated to include ocean and air shipments.
In its pilot phase, Emissions IQ helped 125 companies reduce their carbon emissions by a total of 350,000 tonnes of CO2 equivalents, said C.H. Robinson.
The company's chief human resources and environmental, social and governance (ESG) officer Angie Freeman added: "You can only change what you can measure. Even companies committed to sustainability have struggled to capture their emissions across complex, multi-faceted supply chains. By putting useful technology and data at their fingertips, we are not only increasing the transparency of emissions in our industry, but we are surfacing the best strategies for customers to make meaningful carbon reductions right now."
In addition to eliminating the time and effort of calculating emissions, C.H. Robinson is also giving companies a way to benchmark against others and track their progress over time. With a worldwide network of nearly 200,000 customers and carriers, C.H. Robinson said that it offers the largest set of emissions benchmarking data in the industry.