The Netherlands-based Damen Shipbuilding Group has developed the FLOW-SV vessel concept, designed to install ground tackles for floating offshore wind turbines.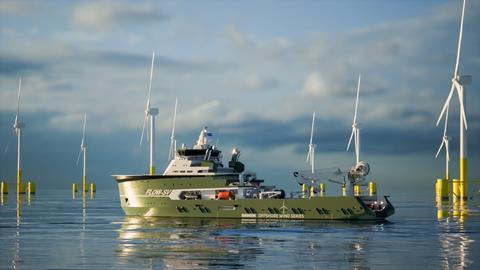 The size and weight of anchors and chains needed for installing floating offshore wind turbines are so big that a larger vessel is needed than any anchor handling vessel before, said Damen. The FLOW-SV, designed to run on methanol, will measure approximately 150 m in length, with a 32 m beam.
According to Damen, the vessel will be able to load lengths of chain and anchors needed to install and secure nine anchors or suction piles. It will also be capable of loading all the materials and equipment needed to install three floaters, saving time on transit and loading. In all, the vessel will be able to carry a load in excess of 4,000 tonnes.
To deploy the anchors, Damen said chains are guided to large winches on the forward end of the open aft deck. From there the chains lead over the deck to the stern where they are deployed into the water. A 250-tonne crane with a 12.5 m reach will be installed along the aft deck's starboard side while two smaller cargo rail cranes will be available for handling gear on deck.
"With the FLOW-SV, we have developed a vessel which covers the entire process of attaching mooring lines. This vessel, combining the supply, installation, securing and inspection of the ground tackles for floating turbines in one vessel, introduces a big step forward towards large scale installation of floating wind farms," said Wijtze van der Leij, sales manager, Damen.
"We are still in the concept phase. But we are now entering a stage where we would like to partner up to refine and customise this concept. Together with a launching customer, we aspire to accelerate the floating offshore wind farm installation industry."