Helen Delich Bentley port of Baltimore in Maryland, USA, has completed dredging operations to create a second 50 ft-deep container berth at its Seagirt Marine Terminal.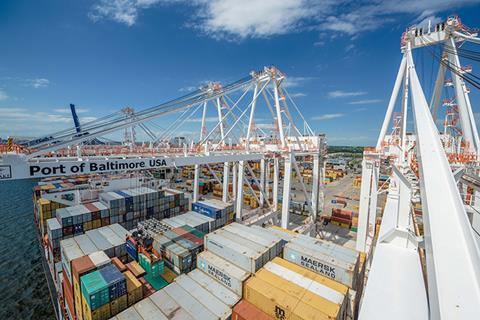 The project, completed as part of the public-private partnership between the Maryland Department of Transportation Maryland Port Administration (MDOT MPA) and Ports America Chesapeake, enables the port to accommodate two ultra-large ships simultaneously by the end of 2021.
Corman Kokosing Construction carried out the dredging work. Between January and April, a total of 465,000 cubic yards (355,518 cu m) of sediment was removed.
With the second 50 ft deep berth completed, four additional Neo-Panamax cranes will arrive this summer and will be operational later this year, the port authority said. The berth project is part of a USD122.1 million investment. Further investment from Ports America Chesapeake will see additional equipment arrive at the port, along with infrastructure enhancements and technology upgrades.
Greg Slater, MDOT secretary, said: "Additional berth capacity and the ability to move cargo on double-stacked rail cars with the Howard Street Tunnel expansion will attract new and expanded business to the port, boost revenue, grow jobs and lead the way in Maryland's economic recovery."