Maritime analyst Drewry has launched its multipurpose time charter index. The index tracks one-year charter rates across a variety of breakbulk and project cargo ships.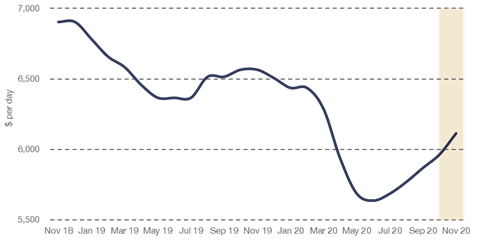 The multipurpose time charter index increased to USD5,965 per day in October, representing a rise of 1.6 percent compared to the previous month.
During October 2020, rates for the larger project carriers with high capacity cranes improved by 1 percent over September 2020 to USD6,700 per day. For smaller vessels with lower crane capacities, which predominantly trade short sea, rates were up almost 2 percent month-on-month to USD5,400 per day, boosted by improved demand for breakbulk cargo.
Over the year from January to October, Drewry's index is down 9 percent. It expects the average day charter rate to increase to USD6,100 in November 2020.