The Drewry Multipurpose Time Charter Index rose to USD7,795 per day in March 2021, representing a rise of almost 15 percent compared to the previous month.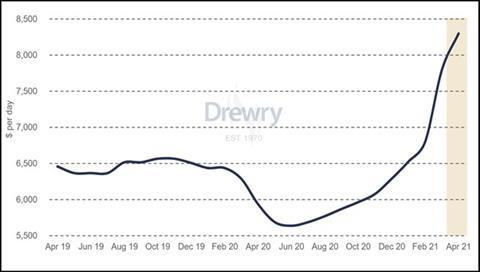 Over the year to March 2021, Drewy's index is up 24 percent, and the analyst expects a further rise of 6.5 percent in April to reach USD8,300 per day.
Drewry said that rates for all sectors of the market rose significantly over March, as the multipurpose vessel charter market benefitted from capacity constraints in both the container and bulk sectors.
With breakbulk demand holding firm and charter rates in the competing sectors at levels not seen for a number of years, shippers returned to the multipurpose sector for their transport requirements, Drewry said.
"While Drewry remains cautiously optimistic about the longer term outlook for the sector, the continued uncertainty around global recovery coupled with the surety that the capacity issues will start to improve from the third quarter of 2021, means that the shorter term outlook is weakening, albeit very slowly," added Drewry. Conditions are still favourable for the multipurpose and heavy lift sector, but growth is not expected to be as strong in the second quarter as it was in the first.