The Drewry Multipurpose Time Charter Index weakened slightly over June, by just 0.6 percent, to USD11,050 per day.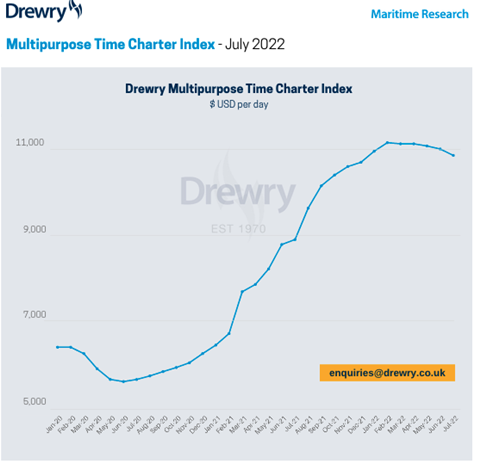 In May 2022, Drewry's rate stood at USD11,120 per day. The marginal decline was attributed to softening spot rates in competing shipping sectors. "Going forward we expect the weakening trend to continue in July, albeit very slowly, with rates dropping a further 1.4 percent, to USD10,900 per day," said Drewry.
It also drew attention to market uncertainty. "Chinese exports are still hampered by covid restrictions, European demand is weak due to increasing economic concerns and inflation in the US coupled with the continue supply chain issues at the major ports mean that consumer confidence is receding fast," said the analyst.
"On the multipurpose charter market, the shortsea sector is becalmed with rates over much of June steady in the face of rising fuel costs and continued conflict in Ukraine (and what that means in terms of vessel supply and certain trade lanes). Add to this the inevitable summer slowdown that this smaller sector faces (as steel mills close for the holidays and harvests are not quite ready) and there is some space in the sector in the short term.
"For the larger, more heavy lift capable sector rates have weakened in line with the weakness in the container sector. That said, we don't expect this softening to quicken, with only a very gradual decline expected over the summer as the capacity issues start to unwind slowly on some routes."