Dubai-based carrier Emirates has placed an order for five Boeing 777 freighters for its cargo fleet, with two units to be delivered in 2024 and the remaining three aircraft in 2025.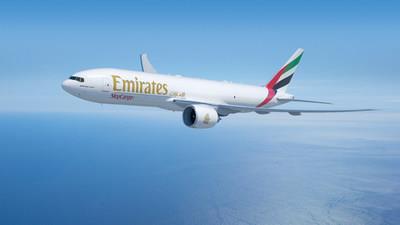 The USD1.7 billion purchase will add to its current fleet of 11 Boeing 777 aircraft. They will be operated by Emirates SkyCargo.
According to Boeing, the 777F is the world's largest, longest-range, twin-engine freighter, with 17 percent lower fuel use and CO2 emissions compared to prior aircraft.
Stan Deal, president and chief executive officer Boeing Commercial Airplanes, said: "The expansion of Emirates' fleet with these additional fuel-efficient 777 freighters will enable the airline to support its growing cargo market demand, transporting goods rapidly and efficiently from origin to destination in the Middle East and around the world."
At last November's Dubai Airshow, Emirates announced a USD1 billion investment to expand its air cargo capacity, including two new 777Fs which joined the Emirates fleet in 2022, and plans to convert 10 Boeing 777-300ERs into freighter aircraft. The aircraft conversion work is scheduled to begin in 2023.