Port Esbjerg in Denmark is building pre-assembly sites for future offshore wind energy projects.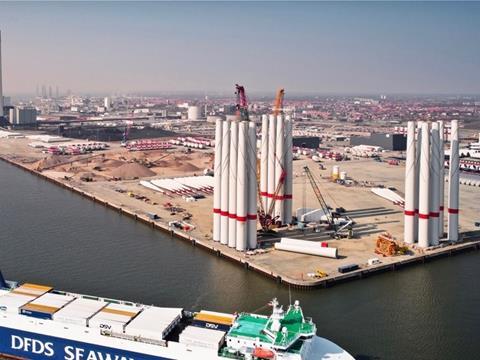 "We believe that establishing our own pre-assembly sites and making them available to be leased by our clients, will prepare our port for the future. It is an example of how we wish to provide optimal flexibility for our clients and partners," said Port Esbjerg ceo Dennis Jul Pedersen.
The future pre-assembly sites in the port will cater to the new and larger turbine installation vessels and the bigger components that need to be assembled directly on the quayside while at the same time giving space for supporting activities and laydown areas.
One of the leading onshore and offshore manufacturers of wind turbines, Siemens Gamesa, has been involved in the development of the setup. Anders Midskov, port operations manager for Siemens Gamesa in Esbjerg, said: "Over many years, Siemens Gamesa and Port Esbjerg have had a very professional and fruitful collaboration on the pre-assembly of wind turbines for offshore wind farms. For the port's future infrastructure, we appreciate that the port has involved us early on to get our input for the ideal future setup, and it has had a
significant positive impact for Siemens Gamesa's operations at the port. We look forward to continuing working together with Port of Esbjerg, where Siemens Gamesa will pre-assemble and install 1.8 GW over the next roughly two years."