The last eight wind turbine foundations for the Seagreen offshore wind farm have departed Global Energy Group's port of Nigg in Scotland.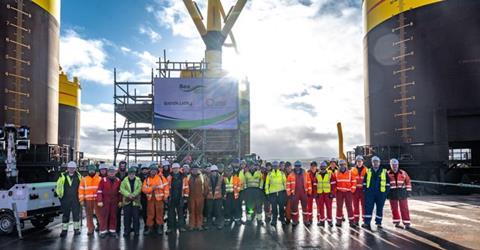 The three-legged foundation towers were loaded onto barges at the port's South Quay and transported 27 km to the project site by Seaway7. Global Port Services, part of Global Energy Group, was responsible for the storage, marshalling and logistics contract for all 114 foundation towers.
106 of the jacket substructures have been installed with 79 turbines now erected. The remaining eight foundation jackets loaded out at Nigg will remain on barges until the Saipem 7000 vessel returns to the Seagreen site in March following its maintenance outage.
The Seagreen offshore wind farm – a joint venture project between SSE Renewables and TotalEnergies ­– is on track for completion in summer 2023.
"The successful loadout of the final jackets from Nigg is a significant milestone on the Seagreen project and concludes the marshalling scope at Nigg Energy Park," said Martin Johnston, Seagreen marshalling site manager for Seaway7.
"The task of loading in, preparing and loading out the Seagreen jackets over the last 18 months has been challenging and relentless, however the collaboration between Seaway7, Seagreen Wind Energy, Global Energy Group, port of Cromarty Firth and Mammoet has made this possible."