UK-based Forth Ports has started construction of a marine berth at the port of Leith, as it progresses with its plans to create Scotland's largest renewables hub.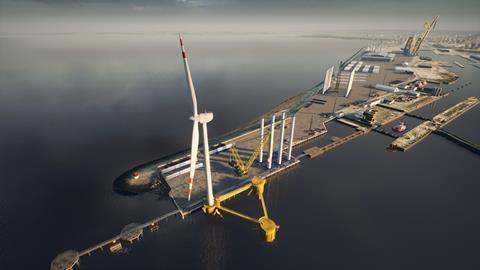 The GBP50 million (USD62 million) project will create a renewables hub on a 175-acre (71-ha) site suitable for logistics, marshalling and manufacturing. The adjacent berth will have a heavy lift capability of up to 100 tonners per sq m.
Working with specialist contractors, GRAHAM, the berth is being created immediately outside the port's lock gates, meaning that vessels do not need to enter the locked port itself. Forth Ports said this leads to faster ship turnaround times and the ability to accommodate larger vessels. Works began in January on the marine and landside port infrastructure upgrades, with completion expected in summer 2024.
The Leith Renewables Hub will be part of the Forth Green Freeport's strategically located tax and Customs sites, which aim to reindustrialise central Scotland.
Charles Hammond, group chief executive of Forth Ports, said: "The work under way in Leith will pave the way for Scotland to maximise the supply chain value and jobs from the ScotWind offshore wind leasing round.
"Our major investment in Leith's logistics and marine infrastructure will be crucial to the success of the Forth Green Freeport. With existing and future offshore wind farm development plans in the North Sea, this renewables hub has the potential to support offshore wind construction projects for the next 30 years."