Ocean carrier G2 Ocean said that it aims to become a net-zero emissions company by 2050. Furthermore, it commits to bring zero-emission-capable vessels on to the water by 2030.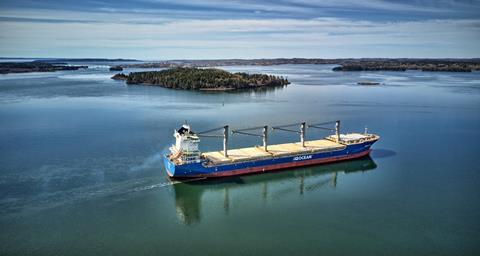 "At G2 Ocean, we recognise that climate change is one of the greatest and most important challenges of our time, and we are committed to continue doing our part to reduce our environmental footprint," said Arthur English, ceo at G2 Ocean.
In addition to being IMO compliant, which requires G2 Ocean to reduce greenhouse gas emissions per transported unit by a minimum of 40 percent by 2030 from 2008 levels, the carrier is committing to the following ambitions:
Becoming a net-zero emissions company by 2050
Offering customers net-zero transport options within 2022
Bringing in zero-emissions capable vessels by 2030
Continuing to work with customers and partners to test new green technology
Working with ports and customers to build sustainable infrastructure and procedures.
"These ambitions demonstrate our commitment to creating sustainable value for our customers while strengthening our future competitiveness and supporting environmental change in the shipping industry," English added.
G2 Ocean has already undertaken several initiatives on its journey towards net-zero. In December 2021, the company successfully completed its very first trial using biofuel to power its 46,500 dwt general cargo vessel, Star Istind, on its voyage from Europe to North America. It is also exploring other alternatives to fossil fuels for its vessels – together with 11 industry partners, the company is investigating the possibilities of using green ammonia to power open hatch vessels on transatlantic voyages.