The USA's Georgia Ports Authority (GPA) plans to add a fourth berth, 360,000 sq ft (33,445.1 sq m) of warehousing and 85 acres (35 ha) of land for auto processing to the port of Brunswick's Colonel's Island terminal.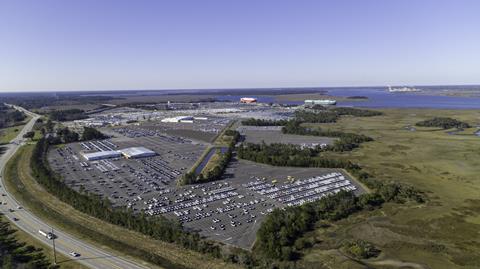 The USD150 million development plan will expand the terminal's storage capacity and breakbulk capabilities. The new berth will include a concrete deck and system of mooring dolphins extending ro-ro vessel berthing space from 3,355 ft (1,022.6 m) to 4,630 ft (1,411.2 m). Construction is anticipated to begin at the end of 2022 and take two years to complete.
In addition to growing the auto trade, GPA will upgrade near-dock storage areas to better accommodate heavy machinery used in agriculture, construction and warehousing operations.
"We're expanding berth and terminal capacity at both Colonel's Island and Mayor's Point so that we are ready to take on additional trade," said Griff Lynch, GPA executive director. "The investments we are making will lay the groundwork for job growth and new opportunity in the Brunswick region."
"Home to more than 20 automaker brands, Colonel's Island is poised to become the Southeast's premier autoport," said GPA board chairman Joel Wooten. "With more room to grow, better connections to inland markets, and an operation dedicated to ro-ro cargo, Colonel's Island is the region's busiest gateway for autos and machinery."