The Grimaldi Group has added a port call in Zeebrugge on its twice-weekly ro-ro feeder service between Belgium and Ireland.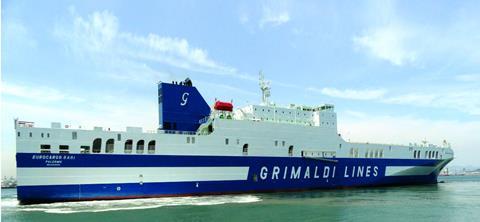 The updated schedule will offer two departures per week from the port of Zeebrugge and one from Antwerp, and will call at the port of Cork in Ireland.
In the port of Zeebrugge, the Grimaldi Group will call at P&O Ferries' terminal. Grimaldi said that its cooperation with P&O Ferries has also been extended to cover commercial activities.
Grimaldi added that the call in Zeebrugge will ensure even more efficient freight flows, providing competitive, safe and eco-sustainable connections compared to the UK land bridge.
The vessel deployed on the Zeebrugge-Antwerp-Cork service is the Italian-flagged ro-ro ship Eurocargo Bari, which has a length of 200 m, a width of 26.5 m, and a gross tonnage of 32,632 tonnes. Thanks to its hoistable decks, the vessel can transport 3,850 linear meters of rolling freight and 200 cars.