Italy-headquartered Grimaldi Group has placed an order for six ro-ro multipurpose vessels with South Korea's Hyundai Mipo Dockyard.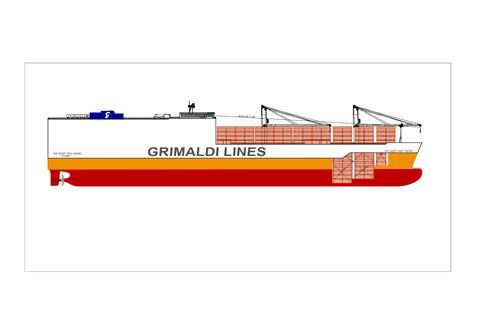 The six vessels are slated for delivery between the start of 2023 and the end of 2024. Each ship will measure 250 m in length, with a beam of 38 m.
The agreement, worth over USD500 million, will inaugurate a new class of vessel named G5 – an evolution of the G4 class, according to Grimaldi.
The G5-class ships will be able to transport 4,700 linear metres of rolling freight, 2,500 car equivalent units (CEU), and 2,000 teu. Compared to the G4 class, the units will have the same capacity for rolling freight, but double the container capacity.
In addition to their loading capacity, the ships will adopt technological solutions aimed at increasing energy efficiency and reducing their environmental impact.
The main engine and auxiliary diesel generators will meet the International Maritime Organization (IMO) Tier III nitrogen oxide regulation.
The vessels will also be designed to operate on shoreside electricity, where possible, avoiding the consumption of fossil fuels during port stays. Moreover, the ships will be equipped with hybrid exhaust gas cleaning systems for the abatement of sulphur and particulate emissions.
According to Grimaldi, the G5-class units will enable a 43 percent reduction of CO2 emissions per tonne transported, compared to other Grimaldi multipurpose ro-ro ships.
Gianluca Grimaldi, president of the Grimaldi Group, said: "The new series of ro-ro multipurpose G5-class ships was designed to respond even more efficiently to the demand for quality transport services on deepsea routes, reconciling the needs related to international freight traffic with that of protecting the environment."