Luigi Pacella Grimaldi spoke with David Kershaw on Grimaldi Group investment programmes as it tackles climate target head on.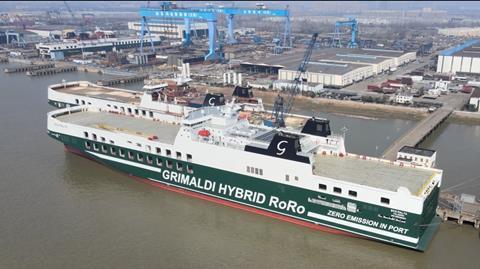 Italy-headquartered Grimaldi Group has taken delivery of 11 highly sustainable ro-ro ships of various configuration in the past two years as it replaces older tonnage with new generation vessels. Luigi Pacella Grimaldi, manager Euromed-Euro Aegean and EMEA-Nafta Lines, said the investments were well timed.
"Now we are in a situation where some PCTCs that were bought four years ago would have a much higher market value today. Even if we chartered them out, with the rates we have seen in the last months we could pay them back quite fast," he said.
The company has also placed orders for 16 newbuildings, with the potential for a further five. These state-of -the-art vessels are about 50 percent less carbon intensive than those they are replacing.
"The Grimaldi Group has invested in more than 220 sustainable projects in less than two years with a total investment, including the newbuilds, of over EUR2.5 billion (USD2.68 billion). We operate second-hand tonnage sporadically, in case of operational needs or market opportunities. We aim to have an eco-friendly, young fleet with low bunker consumption (average age of 12 years), and we tailor the newbuildings specifications to the market requirements," he explained.
Among the investments, Grimaldi spent EUR132 million (USD141.8 million) to lengthen eight vessels, dramatically increasing intake while maintaining consumption, thus dramatically improving the emissions per unit transported. Combined, the Grimaldi fleet is now 90 percent Energy Efficiency Existing Ship Index (EEXI) compliant.
Grimaldi's diversification across multiple strata of the ro-ro shipping business, as well as owning its own terminals, has allowed it to ride out recent lows and capitalise on the highs. "A successful shipowner must understand the consequence of external socio-economical events and act promptly. Grimaldi Group is well diversified geographically and in terms of business, within the ro-ro spectrum and its flat organisation benefits from a short chain of command. Our fleet includes ro-ro, con-ro, multipurpose, PCTC and ro-pax. Being diversified allowed us to adapt to recent market disruptions."
Pacella Grimaldi drew attention to the 2021 microchip crisis in the automotive sector, as well as the next-to-zero passenger traffic in the Baltic and Mediterranean trades due to the pandemic being offset by the surging container market.
He said that while containers are not its core business, its North Europe to West Africa, North Europe to South America, and its ACL line from North America to North Europe, are into containers. "When the container market boomed, we felt the benefit."
Heavy and oversize cargo
Grimaldi's positioning for heavy and oversize cargo will be strengthened with the five newbuildings that will perform a weekly service calling at 12 countries from North Europe to the East Mediterranean. The ro-ro ramps will be wider and shallower, bearing up to 350 tonnes. The decks will be higher, up to 7 m, with fewer columns enabling easier loading and discharge of oversized cargo.
Congestion and disruption have been common features of the shipping markets in the past two years. According to Pacella Grimaldi, planning and responsiveness are essential and companies must cruise by sight. "It is not the day-to-day that is more affected by these emergencies, it is the mid-term. Every few months we have a switch in the market caused by several factors that we have to react to and adapt to."
Port and terminal congestion was highlighted as one area of constant concern. "How long this will continue is hard to say. Congestion first struck in China, Asia and the USA, before cascading across to Europe. On the Continent, the situation is getting worse.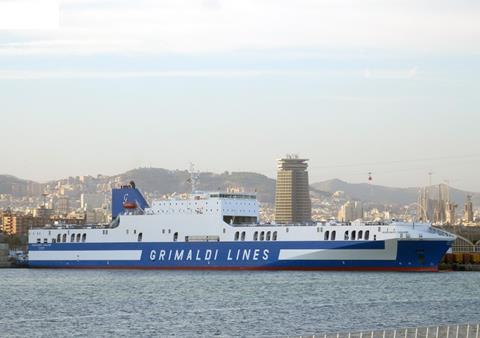 "Being terminal operators ourselves helps, but one of our main hubs is Antwerp… the terminal is full," he cautioned, noting that while imports are handled relatively smoothly, there are some delays when it comes to exports. "There is a lack of workers in the port. Previously, this was because of the pandemic, but now it might be because they are absorbed by container operations. We have a lack of gangs."
Another thorn in the side has been inclement weather. "We looked into some of the statistics of ports that were closed due to bad weather [in the past year] and it was out of the ordinary," he added. "Ashdod in Israel and Piraeus in Greece were closed for a number of days for wind. Alexandria in Egypt was closed due to fog for the first time in its history." North European gateways have been developed with heavy weather in mind, but still fell foul of storms earlier in the year. "We have had Southampton shut for days. Antwerp shut for days," said Pacella Grimaldi, who estimated that it lost 30 days of operations as a result. "Antwerp told us that they have not seen such a wind situation in 30 years."
Pacella Grimaldi noted that these conditions are being factored into newbuild designs. "We are trying to make them more resistant in terms of navigability and to be able to sail in worse sea conditions."
Nevertheless, he summarised the promising signs for the market going forwards: "The positive cycle of many industries nurturing project cargo trades, the increase of public investment in infrastructure in many countries, the container carriers' freight increase, and the lack of capacity all contributed to inflate the demand of ro-ro transportation and project cargo." However, he exercised a note of caution, given "the current chaotic economical and geopolitical environment".