Heavy logistics specialist Gustav Seeland has joined the Hamburg Environmental Partnership.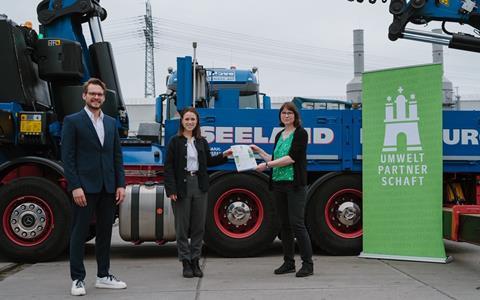 The initiative was set up by the Hamburg Senate, the Chamber of Commerce, and port association Unternehmensverband Hafen Hamburg. It comprises 1,200 companies from the region and aims to improve Hamburg's energy efficiency and reduce its CO2 emissions.
As a result, Gustav Seeland will now also be analysing and assessing all investments and operational processes from a sustainability standpoint.
In order to keep pace with future developments, Gustav Seeland said that it will be relying on both its Ökoprofit certification and state-of-the-art technology, such as the acquisition of an electric pick-and-carry crane and the retrofitting of two specialist cranes with hybrid power trains. The company also plans to invest in hybrid technology for its company vehicle fleet.
In addition, LED lamps are used to light the entire company premises.
Johann Evers, ceo of Gustav Seeland, explained: "Joining the Environmental Partnership opens up new opportunities for us on the heavy goods logistics market. We not only have access to a network of environmentally conscious Hamburg-based companies, but can also share knowledge via the network."