Jan De Nul Group has transported the first batch of 26 pin piles for Taiwan's Formosa 2 offshore wind farm onboard BBC Chartering's vessel BBC Onyx.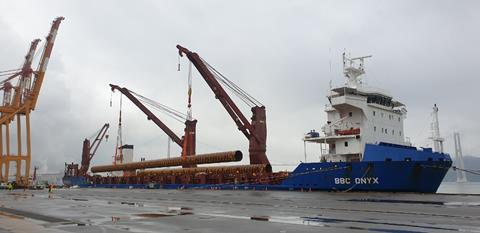 Jan De Nul Group subcontracted EEW Special Pipe Constructions for the fabrication of 194 pin piles. Construction began in January 2020 at three different yards in South Korea and Malaysia.
The first batch – one of eight due to be shipped on BBC Chartering vessels – was loaded in South Korea and discharged at Taiwan's port of Taichung, which is serving as the logistics and operations hub for the project.
For the port operations, Jan De Nul Group is working alongside Belgium-headquartered Sarens as well as Taiwanese suppliers including Hung Hua Corporation, Ta Jia International, Jin An Logistics International, and Glory Shipping Agency Corporation.
When complete, the offshore wind farm will consist of 47 Siemens 8 MW turbines on jacket foundations in water depths up to 55 m.