United European Car Carriers (UECC) has held a keel laying ceremony for its first newbuild pure car truck carrier (PCTC) on order at Jiangnan Shipyard in Shanghai, China.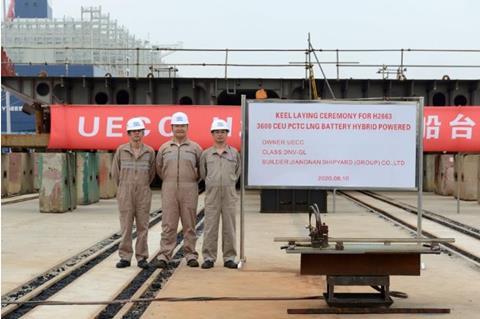 The PCTC is the first in a series of three vessels on order with China Ship Building Trading and Jiangnan Shipyard Group. The vessels will be equipped with a battery hybrid LNG propulsion system.
With an overall length of 169 m and a width of 28 m, the ships will have ten cargo decks, two of which will be hoistable. As a result, the vessels will be able to accommodate high and heavy, as well as breakbulk cargoes.
UECC's ceo Glenn Edvardsen said: "Yet another milestone has taken place in UECC's massive investment in sustainable new vessels. UECC's commitment to carbon intensity reduction is a strong as ever, and with these three new vessels in our fleet, along with our two existing dual-fuel LNG PCTCs, UECC will go beyond IMO's target of 40 percent reduction in carbon intensity by 2030."
Due to the Covid-19 pandemic, representatives from the UECC head office in Oslo, Norway, were not able to attend the ceremony, but the company's onsite team – including Wengang Zhou, Zhang Yuan and Wu Zheng Wei (pictured) – was on hand to celebrate the occasion.
UECC is jointly owned by Nippon Yusen Kabushiki Kaisha (NYK) and Wallenius Lines.