The working group of Lower Saxony seaports in Germany has commissioned a study that examines how the ports can best support the German energy transition, notably the expansion of wind energy.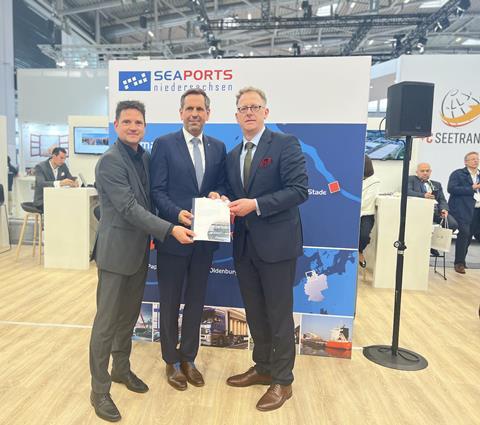 The working group of Lower Saxony seaports is the combination of nine Lower Saxony ports, including Brake, Cuxhaven, Emden, Leer, Nordenham, Oldenburg, Papenburg, Stade and Wilhelmshaven. It represents the political interests of Lower Saxony's seaport industry.
It commissioned Deutsche WindGuard to conduct the study, which will be presented at the National Maritime Conference in Bremen at the beginning of September. It will also be included in the federal government's national port strategy.
Dennis Kruse, managing director of Deutsche WindGuard, explained: "We expect that the wind energy industry will have a significantly higher demand for port space in the future, both in the short and long term, in order to meet the expansion targets onshore and offshore and to maintain the stock."
For example, Germany plans to double installed capacity of onshore wind energy by 2030 compared to 2022 and almost quadruple that of offshore wind.
"Lower Saxony's seaports are ready," said Michael de Reese, spokesman for the Lower Saxony seaports working group. "The space potential is there. If the expansion targets in wind energy are to be achieved by 2030, political investment decisions must be made now so that transshipment areas can also be developed in the short term."
According to de Reese, Germany should not rely on additional port capacities in neighbouring European countries such as the Netherlands or Denmark, noting that these too will likely be fully utilised due to their own national expansion targets.
In order to overcome potential bottlenecks in the supply chain, achieving expansion goals must consider quays, port access and hinterland connections, said the working group.
Lower Saxony's economics minister Olaf Lies added: "Our ports are already an important part of the wind energy industry's value chains, for example as the main transshipment base, production port, storage area or service port… a look at the national and European wind energy expansion targets shows that the importance of the Lower Saxony ports will once again increase significantly.
"From 2025 onwards, we expect an annual expansion of around 2,000 onshore and offshore wind turbines – around three times as many as today. The study presented contains the good news that our ports have the potential to be an important part of this dynamic process."