Truck and power system manufacturer Scania UK has named Chris Newitt as managing director. The group also outlined its decarbonisation strategy.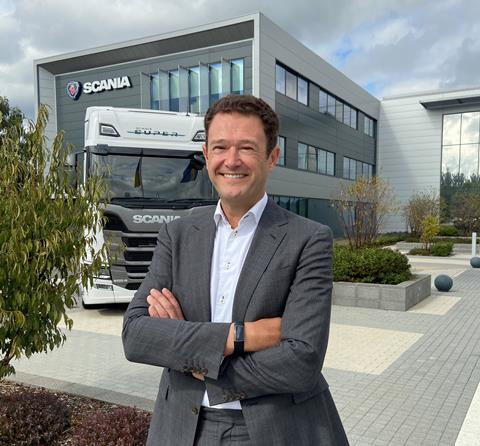 Newitt took up his new role on September 20. He succeeds and will report into James Armstrong, who has become executive regional director for Scania Europe north region.
Newitt has extensive expertise in the automotive business, having held several senior positions at Jaguar Land Rover for more than a decade, as well as senior experience working for Volkswagen Group UK.
The manufacturer used the IAA 2022 conference and exhibition in Hannover to outline its decarbonisation strategy. By 2030, it expects 50 percent of its total sales volume to be electrified. "In our electrification journey, we are leaving city limits behind us and heading onto intercity motorways. We have recently delivered an electrified timber truck to a customer in northern Sweden. And that is a very real token of the fact that we now can electrify all heavy transport applications," said Christian Levin, ceo Scania Group.
To enable these long-distance motorway transports, Scania is preparing for megawatt charging to charge trucks for 45 minutes for 4.5 hours of travel. In the coming years, the electrified share of Scania's vehicles will grow significantly.
Levin added: "As we ramp up vehicles with zero tailpipe emissions, we are increasingly focusing on other sources of emissions… We've identified four 'hotspots' – batteries, steel, aluminium and cast iron – which together account for more than 80 percent of carbon emission emanating from the supply chain. By 2030 we will cut emissions from these hotspots with 60-85 percent."
Furthermore, the new (and Scania's final) powertrain for combustion engines – Scania Super – delivers fuel savings that typically will reach 8 percent for long-haulage customers. This powertrain was demonstrated in several vehicles at IAA 2022.
"Going forward, we offer a total turnkey solution for our electrified customers. A solution that is scalable for the future. There are no longer any excuses not to start the transition to zero-emission vehicles," Levin added.