UK-based Ainscough Crane Hire has expanded its fleet with 18 Scania 660 SXT trucks.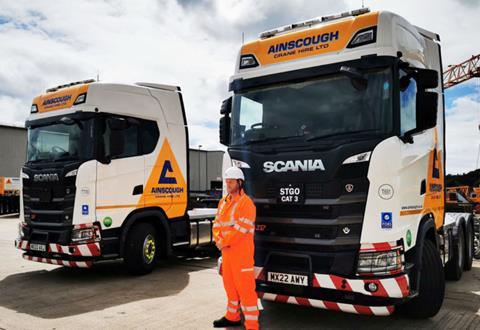 Lighter in weight than previous trucks, the aerodynamically designed models enable improved levels of fuel consumption. The trucks will also enable the company's operatives to take advantage of the hydrogenated vegetable oil (HVO) fuel bunkers present at all its depots.
The vehicles feature electric plugs which can be utilised while idle at depots and certain customer sites, further increasing fuel efficiency. The team also worked with Scania to relocate toolbox positions, allowing for easy roadside access to the trucks, and reducing the need for manual handling and associated risks.
As the trucks run on single fuel tanks, Scania was able to add additional storage space where the second fuel tank would previously sit.
Drivers of the new trucks will have access to a tyre pressure monitoring system that allows the observing of both axles, along with tyre temperature, brake temperature, and the security of the wheel nuts. This system means any issues with the truck can be rectified before leaving a site or depot.
Chris Britton, general manager for heavy cranes and transport at Ainscough Crane Hire, said: "All of these upgrades that we've had to this Scania 660 SXT model, in conjunction with the upgrades to the living and working area both inside and outside of the truck, means an enhanced working environment for our staff and an improved service for Ainscough customers, as well as helping us achieve our goal of becoming carbon neutral."