Ground was broken June 29 at Fairwinds Landing in Norfolk, Virginia for what will be one of the first dedicated offshore wind energy operations support facilities in North America. Plans include enhanced project cargo and heavy lift handling capabilities.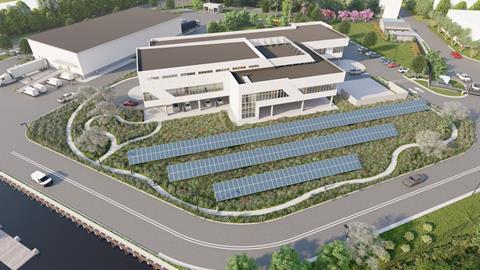 The first part of the Fairwinds development will be an offshore wind monitoring and coordination center (MCC) at the 111 acre (44.9 ha) terminal. The MCC, slated to be completed in 2025, will be the information technology and communications headquarters for construction and operations of Dominion Energy's Coastal Virginia Offshore Wind (CVOW) project planned off Virginia Beach.
Once CVOW is in operation, crew and maintenance vessels will be based at Fairwinds. However, the home port for Charybdis, the big US-flag installation vessel that Dominion has under construction, will be across the river at Portsmouth Marine Terminal. PMT is being rebuilt by the Virginia Ports Authority as a major offshore wind energy marshalling facility for CVOW and other projects.
The initial construction at Fairwinds begins a multi-phase redevelopment to transform the former Lamberts Point Docks into a marine logistics center. Balicore Construction is the general contractor for the project.
The Miller Group, developer, has planned a purpose-built 31,167 sq ft (2,896 sq m) operations and maintenance center. The facility will also include a 17,280 sq ft (1,605.4 sq m) warehouse to store spare parts and 950 linear feet (289.6 m) of pier frontage to berth offshore wind project support and crew vessels.
While Dominion will be the launch customer and anchor tenant at both Fairwinds and at PMT, both terminals are being built to support additional projects. "We anticipate that Fairwinds would be an operations and maintenance center for multiple offshore wind developments in the region," Mike Hopkins, managing director, told HLFPI. He added that "we already do some project cargo, such as export of locomotives. We plan to add a heavy lift berth north of MCC in 2025 that will be able to handle overflow from other project cargo facilities."
When the port authority reconfigured its operations several years ago, it consolidated and expanded the container facility in Norfolk, just north of Fairwinds/Lamberts Landing. Project cargo and ro-ro were consolidated in Newport News, on the north side of Hampton Roads near the shipyard that builds aircraft carriers and submarines for the US Navy. That left PMT available to be redeveloped as a wind port.
Given the cranes and facilities planned for the wind port, it will also be able to handle project cargo if there is available wharf space. Thus heavy lift capability at Fairwinds is intended as a complement to PMT on the south side of the harbor