Connecticut Port Authority in the USA has completed the construction of the port of New London's Northeast Bulkhead delivery berth.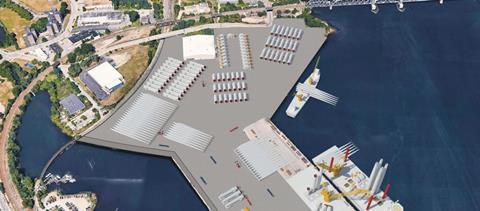 The delivery berth is a heavy lift platform capable of handling loads of 5,000 lbs per sq ft (24 tonnes per sq m).
Connecticut Port Authority said that with the berth's completion, the port of New London is now on track for the assembly and delivery of offshore wind turbines for the Ørsted and Eversource joint venture's 130 MW South Fork Wind project this spring.
"The completion of the Northeast Bulkhead is a seminal milestone for the Connecticut Port Authority and substantially transforms the State Pier into a modern marine terminal, putting the port of New London at the forefront of the new offshore wind industry and the battle to address climate change, while diversifying our regional economy," said Ulysses Hammond, executive director of the Connecticut Port Authority.
Construction of the second heavy lift platform and southern end of the development site will continue through autumn without disruption to South Fork Wind operations and will be used to support the staging and assembly of two additional Ørsted/Eversource offshore wind projects, Revolution Wind and Sunrise Wind.
When completed, the 16-ha New London State Pier Terminal will feature two heavy-lift platforms capable of accommodating offshore wind turbine components with a wider range of cargo than the facility had been able to service in the past.
State Pier Terminal will also be the first port of call for Dominion's Charybdis, the first Jones Act-compliant wind turbine installation vessel, as HLPFI reported here.