Offshore Heavy Transport's (OHT) vessel Hawk has delivered nine wind turbine jackets and one substation platform to the port of Nigg, Scotland, for the Moray East offshore wind farm.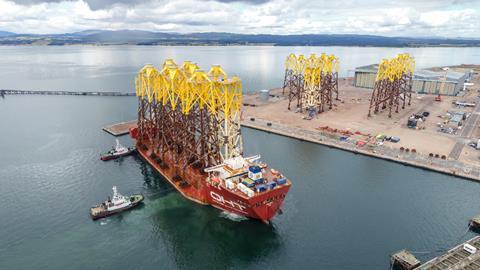 OHT transported the first eight jacket foundations to the port of Nigg in May 2020 as HLPFI reported here.
The jackets, each 75-80 m high, will be offloaded at the port, then undergo final preparations before being loaded onto the Seajacks Scylla vessel for installation 25 km from the shore in the Moray Firth.
Moray East has contracted DEME and Smulders to oversee the design, manufacturing and installation of the jackets; Global Energy has been subcontracted to provide supporting facilities at the port; and OHT will co-ordinate shipping vessel provision. The port of Nigg and the port of Cromarty Firth are providing the onshore facilities from which the offshore work will be undertaken.
A total of 103 jackets are being installed to provide foundations for 100 offshore turbine generators and three substation platforms.